'Snappersnipes' is a New Jazz Quartet featuring the compositions of bass player Ralf Dorrell.
In Japan, sixtieth birthdays are celebrated as kanreki, when one cycle of life is at an end and another is about to begin. Ralf was sixty in 2019 and has decided that this next period of his life should be focused on composing and performing rather than teaching music. Following 35 years of leading jazz workshops and 7 years of running the jazz degree courses and big bands at Bath Spa University, the year 2019 also coincided with the successful completion of his PhD in Jazz Composition. After a long period of planning and careful consideration, he hand-picked the players (see below) to create this new band to bring his new compositions to life. 
In early 2020 the band recorded the 6-track demo ep Snappersnipes and launched it on many streaming services. A couple of weeks later the pandemic arrived in the UK along with the first of three lockdowns. This effectively stopped all live performances for two years.
The band is now emerging into the post-pandemic world and is starting to perform in the venues that have survived the enforced closures...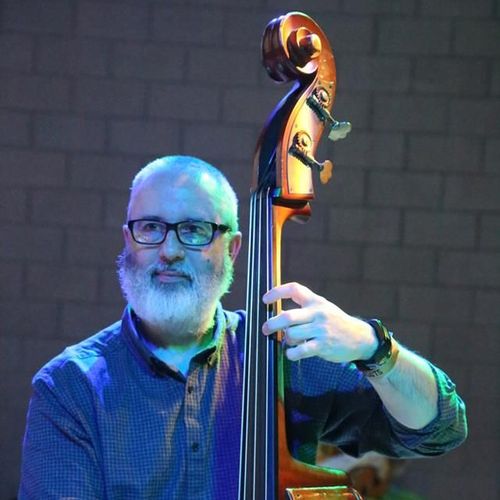 RALF DORRELL
BASS/COMPOSER
Ralf is a classically-trained composer with over 40 years experience of playing jazz. After an initial professional career as a trombonist, he returned to his first love, the double bass, about 20 years ago. The wide variety of his influences, from Early Music to free improvisation, combined with a love of grooves from around the world, leads to a music which is open-minded, spontaneous and colourful.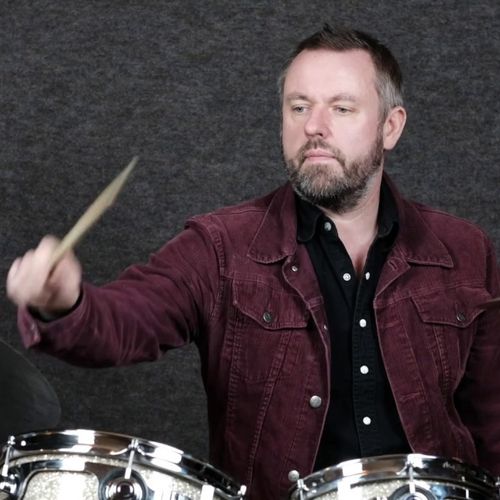 ROBERT BRIAN
DRUMS
A Grammy-winning session drummer with his heart in jazz, Rob has worked with Ralf in various acoustic and electric rhythm sections over the last 15 years. His consummate musicianship makes him the perfect person to provide the rhythmic drive, textures and colours appropriate for these new compositions.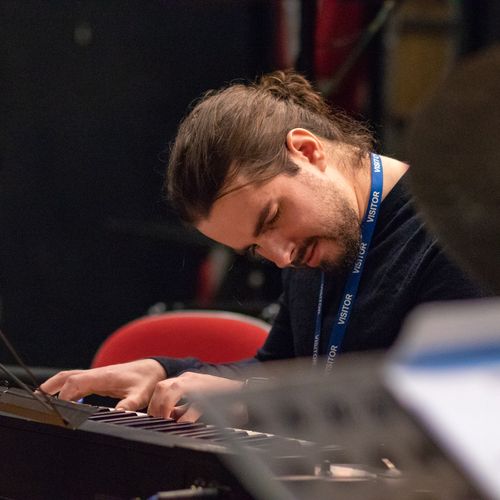 Guy Shotton
Piano and Keyboards
Twelve years ago Guy was briefly a jazz student with Ralf at Bath Spa University before moving to Cardiff to study. He has recently moved to Bristol, and is a rising star of the South-West jazz scene. The varied colours of his keyboard voicings and his classically-inspired touch work perfectly in this context.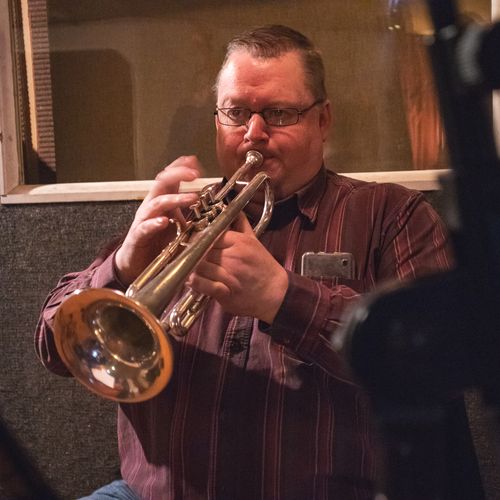 Gethin Liddington
Trumpet and Flugelhorn
A leading light of the Welsh jazz scene, Gethin first worked with Ralf in the mid-1990s, when they both played in the Bristol-based contemporary jazz orchestra, Ultrasound. His lyrical approach to playing, along with a technical mastery of the instrument, reveals his background as a brass band cornet soloist.
Snappersnipes in the studio recording their EP